Canadian amateur photographer Don Gutoski has been named Wildlife Photographer of the Year 2015 by a panel of international judges at an awards ceremony held at London's Natural History Museum. 
He won the award for his image A Tale of Two Foxes, featuring a red fox grasping the body of an arctic fox in its jaws, a haunting scene of the struggle for life in the sub-arctic climes of Cape Churchill, Canada.
Beating more than 42,000 entries submitted from across 96 countries, Don's image will take centre stage at the 51st Wildlife Photographer of the Year exhibition, opening at the Natural History Museum on 16 October.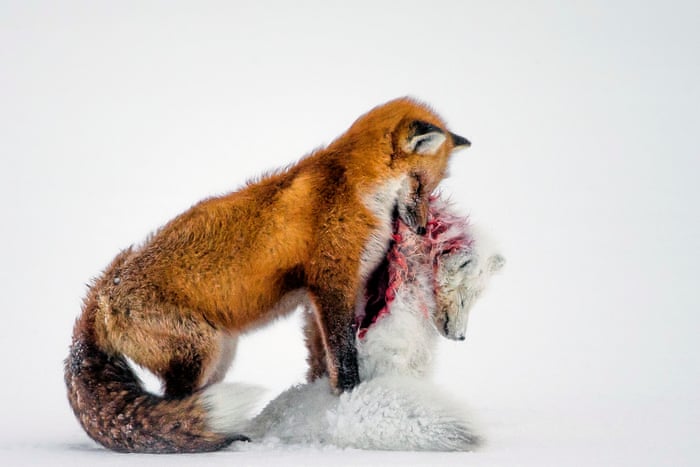 After its London premiere, the exhibition embarks on a UK and international tour, to inspire millions of people across the world to appreciate and conserve the natural world.
Red foxes don't actively hunt Arctic foxes, but where the ranges of two predators overlap, there can be conflict. The snow-covered tundra provided the backdrop for the moment that the red fox paused with the smaller fox in its mouth in a grim pose.
Don said: "The Churchill guides had heard that the two species will occasionally fight, but no one we talked to had ever seen this behaviour.
"I first noticed the red fox hunting and interacting with some prey and on closer approach realised that prey was a white Arctic fox. By the time I got close enough to capture the event, the fight was over and the victor was feeding. 
"I took a number of pictures of the event, until the red fox had eaten its fill, and picked up the remains to find a hiding spot for a later meal."
Fourteen-year-old Ondrej Pelanek from the Czech Republic, meanwhile, won the Young Wildlife Photographer of the Year 2015 title for his image Fighting Ruffs.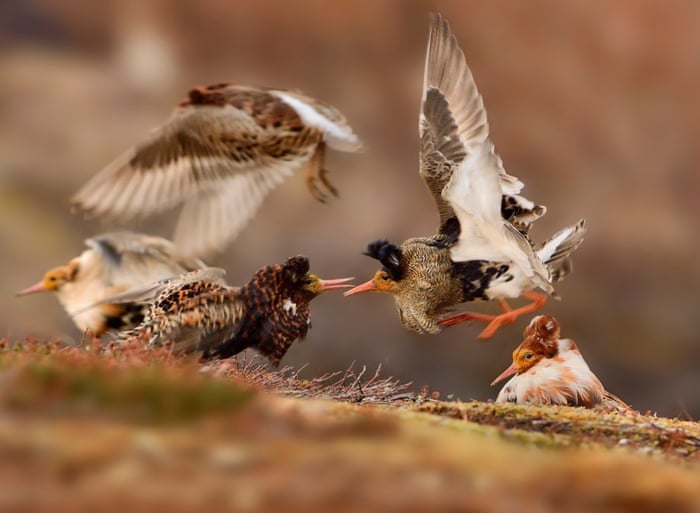 On their traditional lek ground – an area of tundra on Norway's Varanger Peninsula – territorial male ruffs in full breeding plumage show off their ruffs to each other, proclaiming ownership of their courtship areas.
"Far away behind the polar circle we observed fighting ruffs," said Ondrej. "I took this photograph at midnight when my father was sleeping. I was too excited, so stayed awake."
The two images were selected from 18 individual category winners, depicting nature at its finest, from displays of extraordinary animal behaviour to sublime landscapes.
The competition, owned by London's Natural History Museum, is judged by an international panel of industry-recognised professionals. 
Images, submitted by both professional and amateur photographers, are selected for their creativity, artistry and technical complexity.
The 2016 Wildlife Photographer of the Year Competition is open for entries between December 2015 and February 2016. Visit www.nhm.ac.uk for further information.
---