Creativity has long been an established human trait. Whole cultures have been defined by the creative works of people, from the artwork to the architecture of a civilisation.
But what happens when machines appropriate this seemingly human instinct?
The 21st century has seen a myriad of technological advances grace every aspect of society, from communications to manual labour. But surely something that requires cognitive skills would remain untouched? The lines are becoming ever more blurred.
Examples of ever more intricate artistry assisted by robots are appearing in the news by the day. Here are just a few examples from this past month alone:
- In Google's AI labs, a side-experiment undertaken by a couple of its engineers this summer saw them attempt to "see" inside the computer brain to work out how it was learning about images.
In doing so, the engineers discovered that neural networks could actually create their own painting, based just on random-noise pictures, similar to the white noise on old TV sets.
The results have been compared to the art a human might create when they had taken mind-altering drugs such as LSD.
The reason the computers created art that hints at madness or hallucinations could be because Google has mimicked the human visual brain.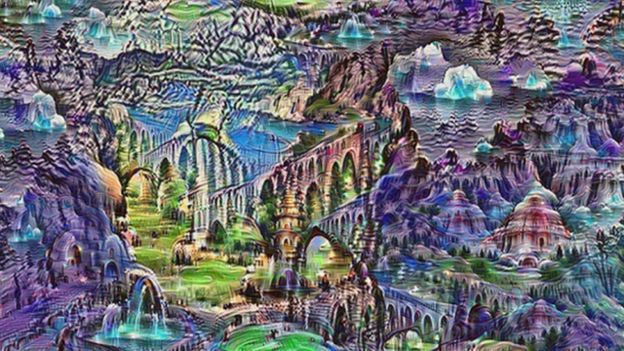 - Also, a young Austrian artist by the name of Alex Kiessling has created artworks simultaneously in three cities using robots.
Alex drew the works in Vienna, with his pen strokes recreated live in London and Berlin with the sort of robot arms that are usually used in manufacturing.
- In Oxford, a robot by the name of Paul sketches portraits of people who sit in front of it. Biro in bionic hand, it can take as little as twenty minutes for Paul to produce the works and can even sign his work of art with his very own automaton autograph.
- And in Germany, researchers have designed a deep learning computer algorithm that is able to distil and understand the essence of how a great masterpiece is painted, in terms of style, colours, technique and brush strokes.
When a photograph is fed to the computer, the computer can then turn the photo into an artistic painting using the painter's signature style, be it the work of artists like Van Gogh, Edvard Munch, Picasso or JM Turner.

Though the above examples are still somewhat vague and basic, giving little hint to a future where robots are able to produce intricate creative works on their own, it shows that tasks such as painting and drawing are becoming more and more assisted by technology.
So should we be worrying about what the future has in store?
Edited by Joe Jones
---